This Training Was Conducted May 18, 2017. Click Here to Watch.
Building on our last webinar hosted by Dries D'hooghe, this 60-minute training class will teach you how to keep Oracle Agile PLM relevant in a cloud ecosphere. By attending, you will gain a deeper understanding of how to extend the life of your Agile PLM investment by making it work for your specific company needs, all the while planning your path to the cloud.
Instructor:
Matt Hopkins, Developer, Zero Wait-State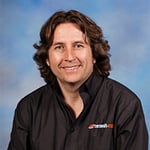 Matt has over 20 years experience and brings a wealth of coding knowledge to Zero Wait-State. He has worked as a senior engineer, architect and developer at many notable corporations such as McAfee, Cisco and GlaxoSmithKline. Matt is an experienced team lead providing expertise in a wide variety of technologies.