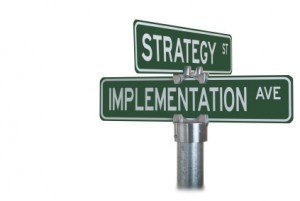 In route to my son's baseball practice, he and I were discussing strategy and tactics and the difference between the two. Now my son is currently 14 years old, so this is a fairly new concept for his adolescent brain. Nevertheless, we managed to make some progress by the time we arrived at the ballpark. After all that talk about strategy, it was inevitable that PLM crept into my brain. While there are many elevator pitch definitions of PLM, there are few better than PLM as a strategy.
Business Value: The Major Questions
PLM strategy begins with value and determining the actionable items that will allow us to reach it. To determine this, we need to ask the right questions. Can we improve operational efficiency by 10% or more? Can we deliver something to our customers that will differentiate us from the competition? If product definitions and classifications in PLM can be transferred to the CRM system and web store, could customers be able to pre-order a new product?
At the heart of every solid strategy is effective communication. So how can we effectively communicate PLM strategy within the corporate environment? To answer this, let's play a game of "If I …"
If I were running a manufacturing company with a portfolio of products that designed in-house, I would require my senior executive of operations to provide me a presentation of his or her PLM strategy. I would limit the presentation to under 10 slides, and I would require images that illustrate the concepts of our adopted PLM strategy. The presentation would not be specifically about PLM tools, but about how we currently are managing our product's lifecycle. Included in this presentation would be all the electronic product definitions, MCAD,ECAD, Sft, Specs, and major processes such as quality or change orders, from conception to end of life.
I would then be interested to view a "to be" slide, not based on a software vendor's advertisement of 'PLM nirvana', but instead an actual reflection of our company's infrastructure and what is possible there within. This should include interfaces to CRM and ERP, as well as the IT environment supporting these applications.
Because in many instances, CRM and ERP already exist within the organization's environment, a solid PLM strategy should detail interfaces and connectors to those systems that enhance their intrinsic strategic value.
Now that we've identified the environment we desire to be our "to be," the following slides will detail how we will get from the current "as is" environment to our desired PLM "to be."
One example is that we could replace our ad hoc Microsoft Excel and Sharepoint methods with a comprehensive consolidated system. That may or may not be the right decision, but it should be clearly illustrated as to why or why not.
The last slide would be a future prediction on any trends he or she sees that we should be planning for that would make a value based difference to our end customers or improve bottom line operational efficiency.
For example, if our PLM strategy was on premise, should we be looking at the cloud for 201X? What would it take to make that move? What value would it be to our end customers or our organization's operational efficiency?
In Conclusion
PLM is a strategy. Of course there are different PLM tools, and everyone likes to talk about which one is best, but that is a tactical decision, not your strategy. PLM should start with a strategy for your company's business model and infrastructure. The PLM strategy should both complement and enhance your existing CRM and ERP strategy.
Please contact Zero Wait-State if you would like to work with us on developing a PLM strategy for your organization. Check out our list of premier clients that have benefited from our years in the PLM trenches, learning what works—and sometimes more importantly, what does not.[clear-line]