EXCLUSIVE PLM SOFTWARE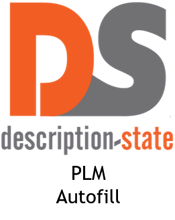 In the world of engineering design and manufacturing, consistency and clear descriptions of parts and items in a PLM system are key. Distributed design campuses, complicated design and engineering processes, and different levels of review and change management may lead to inconsistent naming conventions for parts and items in your design engineering database.
Working with our customers, we've seen this problem crop up time and time again. Observing the urgent need for consistent description conventions to be hardwired into the PLM system, we have developed a process extension for Oracle's Agile PLM system called DescriptionState.
DescriptionState builds an item's description using attribute information contained on the item. The attributes to use and associated value mappings are kept in a spreadsheet matrix checked into Agile for easy maintenance. Alternatively, the matrix may be stored outside of Agile for direct access in order to boost performance.
CUSTOMERS CAN CLICK HERE TO STAY UPDATED ON THE LATEST PRODUCT INFORMATION, RELEASE NOTES, AND DOCUMENTATION.
Questions? Contact Diane Sly today.
How Does It Work?

Step 1
Build
Builds an item's description using attribute information contained on the item. Attributes and associated value mappings are kept in an Excel spreadsheet matrix

Step 2
Upload
Spreadsheet can be checked into Agile for easy maintenance

Step 3
Store
Spreadsheet can be stored outside of Agile for direct access in order to boost performance

Step 4
Update
Descriptions can be set up to be updated automatically or when DescriptionState is manually invoked